Malware
Sandbox

Emulator
Rapidly analyze malware in a virtual environment.
It's another first for Ad-Aware Free Antivirus - a full-blown (no compromise) virtual technology built right inside even our free antivirus. This emulation technology helps protect users from many unidentified or new variants of malware.

Ad-Aware's anti-malware technology rapidly analyzes potential cyber threats by observing their behavior in a virtual environment, meaning that the malware is never actually executed on a user's machine. It's all done in the background and doesn't need any user intervention.

Because Ad-Aware uses Dynamic Translation, the fastest emulation technique available, it is extremely fast and never compromises system performance, despite virtualizing potentially malicious programs.
Technical
Specs
Processor

P733 MHz or better

RAM

512 MB (1GB recommended)

Hard Disk

300 MB free space recommended

Supported Languages

English, French, German, Italian, Spanish, Simplified Chinese

Supported Operating Systems

Windows 8 (32- & 64-bit), Windows 7, Windows Vista (32 and 64-bit), Windows XP (SP2+,32-bit)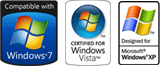 * You are not purchasing, licensing or obtaining this product from Microsoft