Game

Mode
Play your games and watch your movies without being disturbed.
Ad-Aware was the first free antivirus program to include a game mode (sometimes called silent mode).

In Game Mode, your computer remains protected while you play your games or watch a movie without the interruptions or strain on system resources that other security software programs often cause. Game Mode suspends security alerts, system scans while you work or play but since it's real-time protection is still active it doesn't compromise your security.

And now with less than 1% CPU utilization even under heavy use, Ad-Aware really won't slow your PC down even while playing the most demanding games.
Technical
Specs
Processor

P733 MHz or better

RAM

512 MB (1GB recommended)

Hard Disk

300 MB free space recommended

Supported Languages

English, French, German, Italian, Spanish, Simplified Chinese

Supported Operating Systems

Windows 8 (32- & 64-bit), Windows 7, Windows Vista (32 and 64-bit), Windows XP (SP2+,32-bit)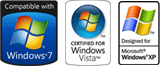 * You are not purchasing, licensing or obtaining this product from Microsoft