Download
Protection
Download photos, music and movies with confidence.
Downloading files from the Internet and in particular from the peer-to-peer networks (P2P) or torrent sites are often loaded with a secret cargo of malware. It is becoming increasingly popular for cyber-criminals to upload contaminated files into what appears to be the latest movies, software programs or even music.

A user who inadvertently downloads such a file exposes his PC and his network to the whims of hackers and puts himself at risk of having his identity stolen or his computer compromised.

Ad-Aware automatically scans files before they are downloaded on your hard-drive and detects malware before it can ever be launched. Its real-time protection quarantines infected files preventing them from damaging you and the community at large.
Technical
Specs
Processor

P733 MHz or better

RAM

512 MB (1GB recommended)

Hard Disk

300 MB free space recommended

Supported Languages

English, French, German, Italian, Spanish, Simplified Chinese

Supported Operating Systems

Windows 8 (32- & 64-bit), Windows 7, Windows Vista (32 and 64-bit), Windows XP (SP2+,32-bit)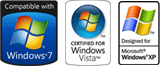 * You are not purchasing, licensing or obtaining this product from Microsoft