Legendary
Antispyware
The world's most trusted. 450 million downloads and counting.
With over 1 billion attacks stopped - there is no doubt Ad-Aware knows a thing or two about how to stop cybercriminals. Our technology is so good that it is used by many of our peers in the security world.

It used to be that viruses were prevalent. Programmers would engineer viruses intended to destroy the data on millions of computers for the sake of earning a reputation. Today's cybercriminals are all about monetary gain.

Adware, spyware and Trojans are engineered to gain insight of a user's PC and take control of it in order to launch cyber-attacks or steal personal data for illicit monetary gain, which is why the number of such related attacks continues to grow exponentially.
Technical
Specs
Processor

P733 MHz or better

RAM

512 MB (1GB recommended)

Hard Disk

300 MB free space recommended

Supported Languages

English, French, German, Italian, Spanish, Simplified Chinese

Supported Operating Systems

Windows 8 (32- & 64-bit), Windows 7, Windows Vista (32 and 64-bit), Windows XP (SP2+,32-bit)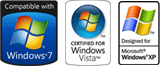 * You are not purchasing, licensing or obtaining this product from Microsoft