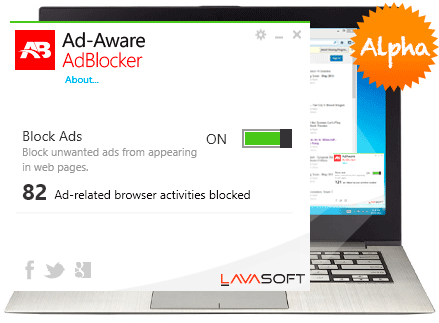 Ad-Aware
AdBlocker
blocks

all ads

when browsing.
Ad-Aware AdBlocker allows you to surf ad-free no matter which browser you use and prefer. Faster loading pages is just the cherry on top.

No toolbar, adds-on, or extensions needed.
This is an ALPHA version! This means that the app may still have bugs and may not work 100% as intended. Please proceed with caution.

Alpha News: Corrected bug - Application Automatic Updater was fixed. Please uninstall and reinstall.
Block video ads just as well...

Remove ads inserted into videos on popular sites like Youtube, Vimeo and many others.

Acceptable ads policy

We recognize the need for advertising to sustain the free internet.

Learn more about our efforts to bridge the gap between ad pollution and responsible advertising.


Load pages faster and reduce bandwidth usage.
Ad-Aware AdBlocker makes your web experience faster, by eliminating giant banners and pop-ups while reducing bandwidth consumption by almost 27%*

See how AdBlocker works!
Click on the video on the left to see how Ad-Aware
AdBlocker delivers a faster, cleaner web experience for all.

Simple, effective and user friendly.
Just launch and forget. A simple app that blocks most ads from most
websites and across all your favorite browsers. Simply launch and
we take care of the important decisions for you.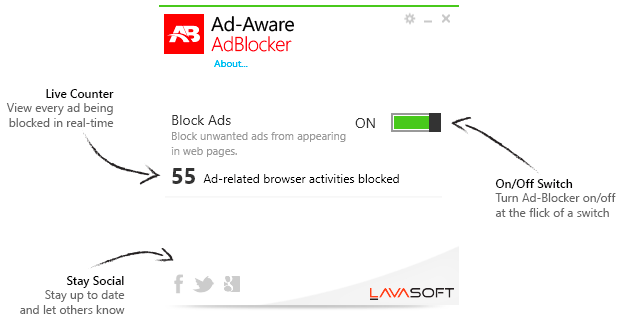 System Requirements
Processor
P733 MHz or better
RAM
512 MB(1GB recommended)
Hard Disk
300 MB free space recommended
Supported Languages
English
Supported Operating Systems
Windows 8(32- & 64-bit), Windows 7, Windows Vista(32- & 64-bit), Windows XP(SP2+, 32-bit)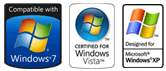 Download AdBlocker and start surfing the web the way you should be.